Filament Essential Services employees participate in a number of charitable events, as well as giving gifts and donations to many nonprofit organizations. Additionally, Filament proudly supports other organizations though sponsorships, workshops and other initiatives. Our annual community outreach recap includes partnerships with a pair of standout groups.
Cause Collective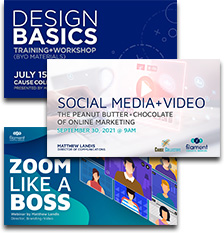 Based in Lincoln, NE, Cause Collective's executive board and staff consist of leaders throughout the community. Together, Cause Collective believes that nonprofits should "inspire a vibrant, thriving and compassionate community, where all residents have equal opportunity," a vision they achieve by working cooperatively with other nonprofits through education and advocacy.
Filament has teamed up with Cause Collective several times over the last two years. At this year's Jazz in June, Filament sponsored Cause Collective's member booth area. Also, over the last two years, Filament's Branding+Video team delivered a trio of seminars and workshops for Cause Collective members. Filament's Matthew Landis, Director of Branding+Video, led each of the following:
Social Media+Video: The Peanut Butter and Chocolate of Online Marketing. This presentation covered optimal usage strategies for popular online and social media channels, best practices for video development and marketing as well as shooting video like a pro with nothing more than a phone.
Design Basics Workshop. Part instruction, part interactive workshop and 100% online, this event gave attendees the opportunity to learn the basics of clean, modern design and then watch their brainstormed ideas level up and come to life. Seasoned pros and true beginners all had the chance to participate.
Zoom Like A Boss. At some point over the last 18 months, everyone went from surviving with Zoom to surviving Zoom itself. Filament's online webinar contained essential tips to take charge of your Zoom presence. Filament's Communications team also presented Zoom Like A Boss to the Nebraska Association of Health Care Marketers.
Nebraska Healthcare Marketers
Nebraska Healthcare Marketers provides networking and educational opportunities for healthcare professionals that are designed to improve their strategic planning, marketing, public relations and communications skills. Filament has been a Silver Sponsor since 2019 and has also provided a number of training sessions for members over the last few years. This year we provided the Zoom Like a Boss as a special training session.
Nonprofit Hub

Aimed at helping nonprofits up their game, Nonprofit Hub offers a wealth of content and resources that empower these groups to excel at branding, marketing, fundraising, communications and more. In addition to topical, curated articles and on-demand webinars, Nonprofit Hub hosts events and also teams with Do More Good to present the Cause Camp conference for nonprofits.
This September, Filament partnered with Nonprofit Hub to present the webinar "Cyber Insurance, Where Do I Start?" As ransomware attacks expand beyond financial and government sectors to target any group that maintains valuable data, even nonprofits need to play defense. Nathan Waddell of Lockton's Cyber Technology practice joined Filament's Dan Delzell, CIO and Art Provost, Assistant Vice President, Security Services, to deliver an in-depth look at the benefits of cyber insurance.
As part of Nonprofit Hub's Fundraising Friday series, we sponsored the "Year End Giving Secrets to Success" webinar presented by Rod Arnold. These regular webinars cover a wide-range of topics to help nonprofits improve their effectiveness, skills and processes.
Inspire Awards

Lincoln's Inspire Awards has blossomed into much more than an awards ceremony honoring the success of local female leaders. Now, it also acts as its own community, organizing events and producing blogs and videos that bring together Lincoln's enterprising women.
At this year's Inspire Awards, Filament proudly sponsored the Excellence in Nonprofit Award. 2021's winner was Michaella Kumke of Food Bank of Lincoln.
Mayor's Arts Awards
Lincoln is home to a vibrant arts community that spans literature, theater, urban design and much more. Every year, the Lincoln Arts Council presents the Mayor's Arts Awards, celebrating outstanding artists in the capital city. Filament supported the Artistic Achievement Award – Youth, which honored Lincoln High School senior Natalie Leininger. Like many events last year, the Mayor's Arts Awards was a livestreamed event, but this year it returns to the Johnny Carson Center for Emerging Media Arts at the University of Nebraska – Lincoln.
Conference Participation
In addition to the events and awards sponsorships above, Filament's Nonprofit Services group was active participant in a number of in person and online conferences over the last two years, including the following:
League of Nebraska Municipalities' 2021 Virtual Midwinter Conference
Nonprofit Association of the Midlands
Ohio Municipal Clerks Association 2020 Conference
NCSA 2020 Administrators' Days
School of Iowa Administrators 2020 Annual Conference
Michigan Association of County Clerks Conference
2021 OSSBA/CCOSA Education Leadership Conference
2021 Annual Conference – Iowa State Association of Counties
Ohio Municipal Clerks Association 2021 Conference
NCSA 2021 Administrators' Days 
Coalition of Greater Minnesota Cities
School of Iowa Administrators 2021 Annual Conference
Nebraska Nonprofit Conference