No matter the season, food security is a concern for millions of families in America. Lincoln is no different, as many local families rely on assistance programs to meet their nutritional needs.
Generous Lincolnites regularly step up and pitch in in various ways, but few endeavors are as clever as the loosely affiliated network of neighborhood food distribution installations commonly known as Little Free Pantries. Even if you haven't heard of them as such, you've likely seen one of the many curbside cabinets Lincoln homeowners have built throughout the city's neighborhoods.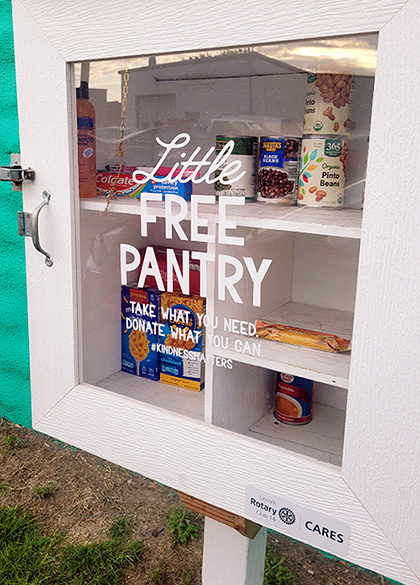 The concept is breathtakingly simple: Give what you can or take what you need—no questions asked. Most items are boxed or canned non-perishable food, although personal care items, paper goods and school supplies often fill little free pantries, as well.
This summer, Filament Essential Services set out on a mission to stock as many little free pantries as possible. As part of the organization's SOCIAL (Supporting Our Communities' Initiatives At Large) program, Filament employees amassed a small mountain of donations. All told, FES collected approximately 18 bags of food and hygiene products, Filament SVP of Nonprofit Services, Dan Kunzman, estimates.
"I am a giver at heart," said Filament administrative assistant Bonnie Horne. "Knowing that I am helping others who need basic necessities like food, shampoo or deodorant makes me feel like I'm really doing something positive."
You can find little free pantries in Lincoln or, if you're interested in creating your own, visit littlefreepantry.org to learn more.