Senior Graphic Designer
Started: December 31, 2018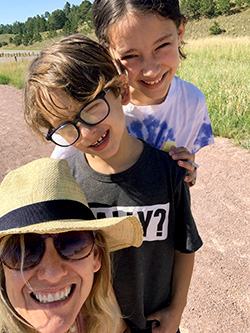 What motivates you to wake up and go to work?
I get to be creative! This excited me because I am a self-proclaimed Creative Nerd!
What do you do at our company?
I make pretty things. Officially I am a Graphic Designer.
What is something people don't know about you?
My kids and I share our home with and are the human companions to two fur babies.
What is your motto or personal mantra?
Everyday in every way. I am getting better and better; and Living the Dream!
What is something on your Bucket List?
I want to complete a 100 mile running event. To help prepare myself for this major event, I frequently compete in half marathons.
What was your childhood dream job?
I wanted to be a professional artist.
What is one random fact about you?
I have an art supply addiction…and I'm proud of it! I also collect vintage cameras, Lego mini-figures, Transformer bot-bots and vintage Fischer Price Little People.
Who is on your Mount Rushmore of musical acts?
Me, alone in my car belting out the tunes.
What hobbies do you enjoy?
As you may have guessed, I am an art nut. I love making my own freehand illustrations. Here's a shameless artwork plug – check out my work on Instagram @dltartsy. I also design promotional pieces for local running events and small businesses.
Other than Nebraska, have you lived elsewhere? If so, where, and what brought you to Nebraska.
I am a born and raised Nebraskan, however, I had the opportunity to live in London for 8 months for a graphic design expat experience with a former employer.